Welcome to Our Club: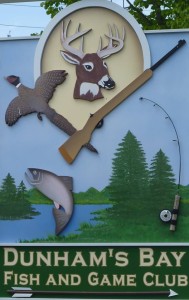 Our next meeting will be  Wednesday, Aug. 9 at 7pm.  While you are welcome to come to the club, please consider joining us via Zoom (see your email). 
• The club is continuing to develop an outdoor, 3-D archery. Please contact archery chairman Pat Beland (pbeland206@aol.com) if you are interested in being part of this. 
• We are now offering the opportunity to join or renew your membership online. To join or renew your membership please click here: https://www.joinit.org/o/dunhams-bay-fish-game-club-inc
---
Don't forget: If you are on Facebook, check in for periodic updates there:
https://www.facebook.com/DunhamsBayFishAndGameClub/
---
Indoor Facilities: The club's indoor facilities, including bathrooms and the archery range are now open to members. Please follow social distancing guidelines while using both indoor and outdoor facilities.
Guest Policy:
Guests are now welcome at the club. Please be safe and follow social distancing guidelines.
Club Hours:
Typically, the range closes at one half hour before sunset each day. However, as fall progresses and sunset occurs sooner each day, the range remains open until sunset through the big game hunting seasons. This gives hunters a little more daylight to sight in their hunting rifles and pattern their shotguns.
Engaging and interesting articles as well as news about club events
are posted regularly to our  Facebook page.